Welcome!

Welcome to Promotional Chicago!

Thanks so much for visiting our new site: PromotionalChicago.com - the best place to find a mix of local and national promotional solutions. It is important to us to support local businesses, but unfortunately not all the products we provide come from local suppliers. For clarity, all the product comes from US suppliers, just not necessarily Chicago based suppliers. The vast majority of products you will find on this site will come from Illinois, but there are products here from points as far as San Diego and Miami. We've included the point of origin for shipping when you click on an item so you can make an educated decision when selecting the products you want.

If you want to deal local, we appreciate that! We have products that are supplied from our of state warehouses but are imprinted with your logo here in Chicago. So we do our best to keep production as local as possible.

So look around, submit a no-obligation quote and let us help you find the perfect product for your promotion. Whether your event is local or half way across the country, we can help!

Thanks for the opportunity!

Any questions, drop us a line - quotes@promotionalchicago.com.


Featured Item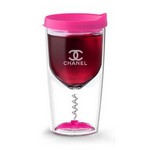 Vino Opener Cup
The Vino Opener has all the great benefits that you know and love from the Vino2Go. Now with an added 'Twist'. A handy corkscrew that easily pops in and out of the bottom of your vino. A truly versati...

Signature Showrooms